~~~~~~~~~~~~~~~~~~~~~~~~~~~~~~~~~~~~~~~~~~~~~~~~~~~~
Annual Meeting
~~~~~~~~~~~~~~~~~~~~~~~~~~~~~~~~~~~~~~~~~~~~~~~~~~~~
<![if !vml]>
<![endif]>
Youth ~ Jared Stephen
Stock ~ Alton Degner
Stock Diesel ~ Steve Hovind
Big Stock ~ Connie Jesko
Stock Altered ~ Alex Jesko
Super Stock ~ Ken Langham Sr
Big Bike ~ Steve Pierce
Outlaw ~ John Aufdenkamp
Mini Rod ~ Jerry Toland
Super Rod ~ James Moody
Congratulations to our 2013 Points Champions
~~~~~~~~~~~~~~~~~~~~~~~~~~~~~~~~~~~~~~~~~~~~~~~~~~~~
<![if !vml]>
<![endif]>
~~~~~~~~~~~~~~~~~~~~~~~~~~~~~~~~~~~~~~~~~~~~~~~~~~~~
Back in 1849, settlers formed a community and chose a name for the common occupation of the group. Today, this community known as Farmersville, celebrates the town heritage with the 'Old Time Saturday' celebration each October. Farmersville became a major shipping point for cattle and bois d'arc posts, and the Kansas City Southern Rail Line still runs through town. The Lone Star Garden Tractor Pulling Association teams also run through Farmersville, in conjunction with the 'Old Time Saturday' event. Staged along the railroad tracks, the LSGTPA pullers gathered to compete for class titles on the cool and damp Saturday, at high noon. The well prepared 200-foot track, provided for some great pulling action for the Farmersville crowd.
The action began with an outstanding National Anthem presentation by Alli Trusty, during opening ceremonies. The Youth Class then took to the track, with Jared Stephan pulling to the win by a margin of one foot, over the 'Texas T-Rex' entry of Lane Duncan. Kody Langham placed his Bonham Service Center Cub Cadet in the third place, less than one inch behind Duncan. The top three pullers recorded Full Pulls in the opening round ! Cassidy Bramlett wheeled her 'Nacho' tractor to the fourth place spot, with Mason Hovind pulling the 'Yes Deere' John Deere to a top five finish. Jared Stephan piloted the Korben Colley-Greer tractor to a sixth place finish.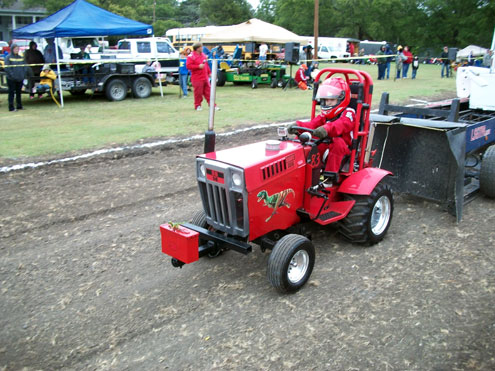 Lane Duncan pilots his 'Texas T-Rex' tractor, to a runner-up finish at the Farmersville Old Time Saturday pull.
In Stock Class, Garin Mason took the title, by a margin of nine inches, over the runner-up entry of Steve McCarley. Aidan Hovind placed third aboard his 'Yes Deere' tractor, with Kolby Langham finishing fourth. Claude Lewis finished in the top five, with Alton Degner and Skeet Degner placing sixth and seventh. In Stock Diesel, Steve Hovind took the win over Ken Langham, Jr. In the Big Stock Class, John Aufdenkamp took the victory, with Chancy Williams placing second. Patrick Bramlett piloted his 'A-Muck' tractor to third place, with Alex Jesko pulling to a fourth place finish. Alton Degner pulled to a top five scoring, with Jerry Toland finishing sixth aboard the 'Triple Deuce' tractor and Kolby Langham placing seventh.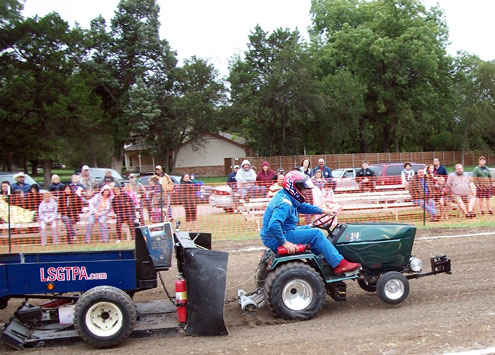 John Aufdenkamp pulls to a win at the Farmersville Old Time Saturday tractor pull.

photos by LSGTPA
The Stock Altered Class saw Alex Jesko take the victory, with Garin Mason pulling to the runner-up position, just three feet behind the leader. Michael Mayberry and his 'Pulling for Peanuts' entry placed third, with Ken Langham, Jr placing fourth. The Motorcycle Class title was taken by Steve Pierce, aboard his 'Buzzards Roost' tractor. Paul Smith turned in two solid pulls aboard his new tractor, to record a runner-up finish, while Todd Hickerson finished in the third place spot. In the Outlaw Class, John Aufdenkamp led the field aboard his triple engine 'Three of a Kind' tractor. Paul Smith returned to pull with the Outlaw Class, and scored his second runner-up finish of the day, while adjusting to his new tractor. Todd Hickerson overcame some mechanical issues to place third, followed by Chancy Williams and Ken Langham, Sr., scoring top five finishes.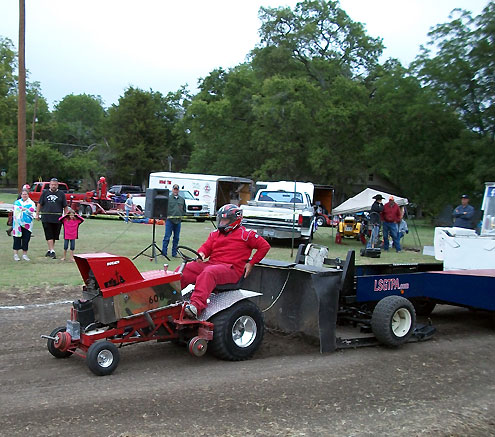 Steve Pierce pilots his 'Buzzards Roost' tractor to a win in Farmersville, Texas.

photos by LSGTPA
The wild Mini Rod Class title belonged to Jerry Toland and his 'Shinin Time' tractor, followed by Colby Crowe aboard his 'Weekend Warrior' machine. Tommy Kimmons placed third with Sarah Moody piloting her '99% Moody' John Deere to the fourth place position. The Super Rod Class tractors closed the show, with points leader James Moody taking his home track victory aboard 'Varoom'. Randall Moody piloted his 'Ridge Runner' tractor to the runner-up position, with John Kiemele taking his 'Dodge This' tractor to a third place finish. Donny Mayo scored a fourth place pull aboard his 'Blackfoot Squaw' tractor, and Steve McCarley scored a top five finish aboard his 'ScatCat' machine.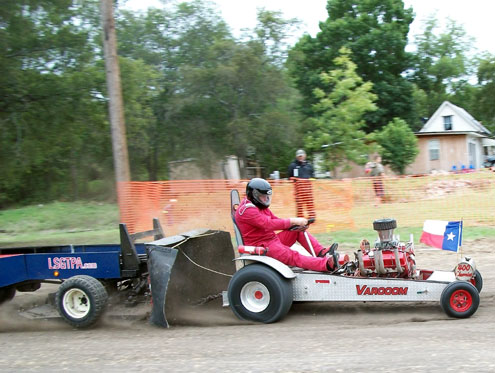 James Moody steers his 'Varooom' tractor downtrack during the Old Time Saturday tractor pull in Farmersville.

photos by LSGTPA
The Old Time Saturday event in Farmersville was a great show with plenty of action. The LSGTPA teams will now take the trail south, to close out the 2013 season at the Rockdale Fair and Rodeo on October 19th. For more information on the LSGTPA, please visit the website atwww.lsgtpa.com .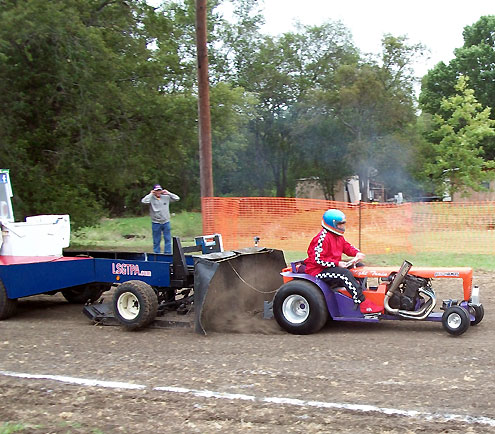 Paul Smith debuts his new tractor at the Farmersville Old Time Saturday LSGTPA event.

photos by LSGTPA

www.ntxe-news.com
Used with permission from North Texas e-News
~~~~~~~~~~~~~~~~~~~~~~~~~~~~~~~~~~~~~~~~~~~~~~~~~~~~
Lots of great videos of the Blue Ridge pull
Visit our Facebook page!!!
Thank you Alex & Ashley Jesko
~~~~~~~~~~~~~~~~~~~~~~~~~~~~~~~~~~~~~~~~~~~~~~~~~~~~
New paint!!!
~~~~~~~~~~~~~~~~~~~~~~~~~~~~~~~~~~~~~~~~~~~~~~~~~~~~
~~~~~~~~~~~~~~~~~~~~~~~~~~~~~~~~~~~~~~~~~~~~~~~~~~~~
LSGTPA YouTube Channel
Check it out!!!
~~~~~~~~~~~~~~~~~~~~~~~~~~~~~~~~~~~~~~~~~~~~~~~~~~~~
LSGTPA is on Facebook!!!
Discussion, Photos and more, please search for LSGTPA
~~~~~~~~~~~~~~~~~~~~~~~~~~~~~~~~~~~~~~~~~~~~~~~~~~~~
Thank you for visiting our site
~~~~~~~~~~~~~~~~~~~~~~~~~~~~~~~~~~~~~~~~~~~~~~~~~~~~
• Home • 2013 Pull Schedule • 2013 Rule Book • Sponsors • Pull Results • LSGTPA YouTube • Pull Hosting • Pics • For Sale • Fun Stuff • Bylaws • Links • LSGTPA History •
Lone Star Garden Tractor Pullers Association
North Central Texas Best!